Dec 19, 2018, 05:06 AM
Welcome, Guest
11
on: Jan 19, 2012, 09:46 PM
Started by Utopi - Last post by Spahnlie
Couldn't have said it better myself Avi.
Tyranny will be and is still missed.
<3's
12
on: Jan 19, 2012, 11:30 AM
Started by Utopi - Last post by Avirodar
That's quite an era in any MMO, and I had a great time being a part of it.

I wish everyone that I have raided with, along with prior members of Tyranny, the best of luck with anything the future brings.

2012 is going to be a very hectic year for me (study+work), but I still intend to poke around on Oasis. Feel free to send a tell if you see me on.

Thanks to you all, for the good times, and good fun.
13
on: Jan 19, 2012, 11:02 AM
Started by Utopi - Last post by Utopi
Paradigm and Tyranny Chronicles
Paradigm was formed in December of 2006 back in the Kingdom of Sky from the merger of the most talented players from Rockeaters and Retribution. I was a raid leader in Rockeaters at the time and wanted more out of the game. After talking with Ephreal and Barsh, who represented the leadership of Retribution, we decided to form up a power house guild. I took the best players of Rockeaters and they took the best players of Retribution and Paradigm was born. I was tremendously hated on Oasis during that time because I essentially broke up two guilds to create one guild. I was even told by Rockeaters guild leader Bonnie that I would never succeed in anything much less running my own guild. Of course this motivated me even more. I was 21 years old.
This was our first raid as Paradigm!
At this time Iniquity was the top guild on Oasis. However, they still lost weekly contested kills to Rockeaters and a few other guilds. There really was no #1 guild on Oasis at this time. Paradigm would change that very quickly. Within a week Paradigm started dominating all the contested. Hurricanus, MO, 3 princes were all ours for the taking. In our first week of formation we killed the Matron. Oasis had never seen a guild with such ambition and determination. A guild that was willing to wake up at 3am for contested!? A month later Iniquity fell apart and we absorbed some of their members making us even stronger and officially putting Paradigm as Oasis's #1 guild. For the first time in Oasis's history there was an uncontested #1 power house. However, we craved more.
When Echoes of Faydwer came out we were still a new guild at only a few months old with a lot to prove. Many guilds tried to test us at this stage and transferred over to Oasis to unseat us as the #1. We proved resilient time and time again. We quickly realized that we would have to hold on to the top spot not just acquire it. Although we dominated the server progression list we wanted to start hitting the WW progression list. In order to do that Paradigm needed not only the want to succeed but also needed the talent. During EoF Paradigm went though a major transformation. Quality not quantity. We got rid of the scrubs and started filling our roster with talented players. We then started getting into the top 5 WW kills but that wasn't good enough for us. We wanted the #1 spot and were willing to do anything to earn it!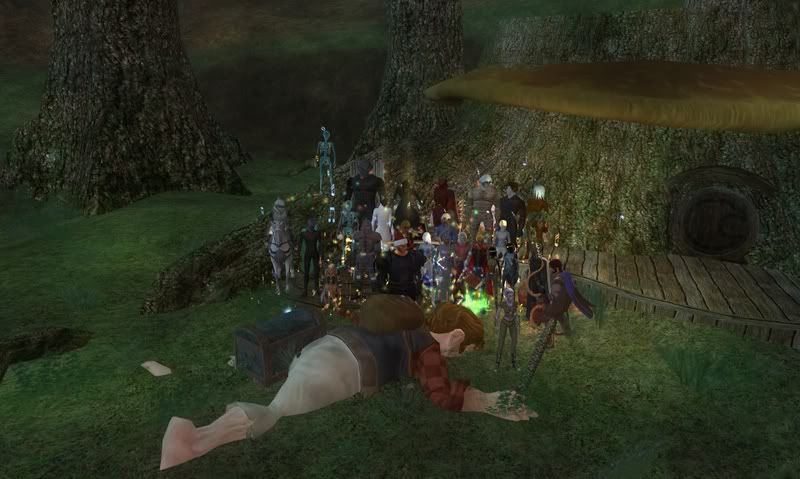 RoK was a big expansion for us. I would describe it as Paradigm's break out expansion. For the first time we started hitting that top 3 WW kills mark. People began to see us a true WW contender. We were waking up regularly during the wee hours of the morning for Avatars. This was a lot of fun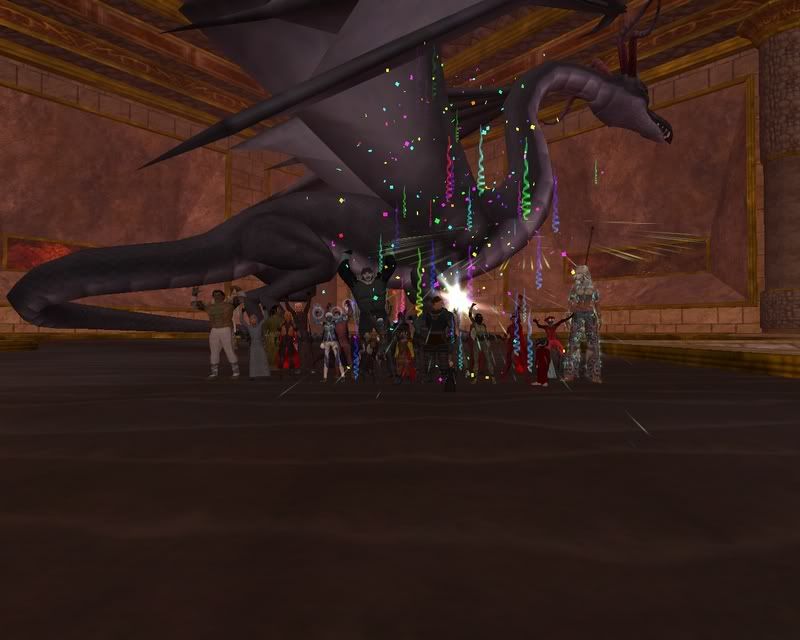 Although this was the expansion that would change Paradigm forever and has been a mystery for some for a long time. Lots of haters made up stories about how the name went from Paradigm to Tyranny. Well, this is how it happened and it all began in RoK with my first departure from the game.
At the end of RoK I took a break from the game. We had killed everything except Tangrin. I left the leadership to Ashern and Metran. Metran got stressed out with the position and left it to Ashern. Long story short the quality of the players in the guild slowly digressed. The guild standers dropped drastically. The raid days were shorter and raided less days. Paradigm was becoming casual. I received numerous phone calls over the few months this was going on to come back and return Paradigm to it's former state.
After about 3 months I decided to come back to the game. However, Ashern saw my return to leadership as something that could destroy the guild because there were quite a few casuals on the roster including himself. Contrary to belief there was no back stabbing or foul play. Ashern and I talked about it for some time and I informed him that If he would not give me leadership to Paradigm I would form my own guild. Long story short I did just that. I created Tyranny and 90% of Paradigm joined my newly formed guild. This instantly shut down Paradigm and I got leadership of Paradigm back on my alt a few days later which we used as an alt guild for Tyranny. Going from Paradigm to Tyranny was troublesome at first but proved shortly to be great for us and troublesome for our competitors.
TSO was a great expansion for us and was probably the most fun for me outside of Paradigm's first few months. The whole transformation from Paradigm to Tyranny actually happened very very early in TSO. Dirty Dozen, the #2 guild on Oasis, got ambitious because they knew Paradigm was folding and didn't know how Tyranny was going to do. We ended up quickly reclaiming our #1 spot after a few nice battles with Dirty Dozen on growth and disease. D12 then transferred servers and went to mistmoore to form Hallowed Wrath. Paradigm was back! But even stronger then before and under a new tag named Tyranny. During TSO we got a few WW firsts and ended up clearing the expansion WW 2nd behind Surreal. That is if you even count the Russian server! Tyranny was truly the top guild WW during the same expansion we "re-formed".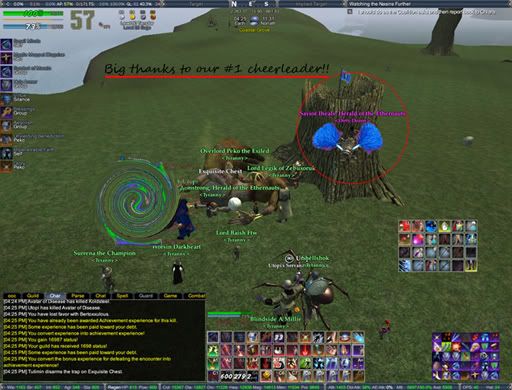 Sentinels Fate was truly a bitter sweet expansion for us. With the loss of avatars and really any worthy contested it was a big blow to the competitors that we are and the hardcore raiding community in general. We continued to get many WW 1sts and 2nds and Tyranny was more renown then ever. Tyranny became a staple of Hardcore raiding and WW dominance in EQ2.
However, because our great success and fast clearing of content early on in SF it burned many people out. We went though a major rebuild during this expansion that put us about a month behind. However, we still ended up clearing the expansion WW 2nd. I can honestly say that late tso/early SF and then late SF, after our rebuild, was the best group of players either Paradigm or Tyranny had seen.
When DoV came around I was excited as always for new content. However, I slowly became frustrated with what EQ2 was turning into. EM/HM encounters, few contested, and lame raid mechanics. This speed up my ultimate departure from EQ2. I was 27 years old and was just tired. I spent a solid 6 years of my life leading raids and being a guild leader in this game expansion after expansion during many great phases and troublesome phases. I was old school to the bone and DoV was a rude awakening for me.
Over the years I began to see what truly makes a quality guild. It doesn't boil down to how fast you can kill something or how flawless you can be. At the age of 21 when I created Paradigm this is what I wanted to do. Although Tyranny did these things and strived to be the best at everything we did and we were. It came down to the community. The people. The community is what makes the guild and the leadership is there to organize and structure it and to make sure the community's focus is on a united task.
Unfortunately I can't say much about DoV as I only played briefly for a month or so. I can say that Tyranny went on for quite a few months after my departure. 9 months to be exact. That is no easy task especially in the state EQ2 is in. All I can ask is that the people gave it their all as my dream was to see this guild succeed even if it meant I wasn't apart of it. Looks like that dream will not come true but I can rest knowing that this guild did what very few guilds in any game are able to do and you were all apart of that in one way or another.
Thanks for reading and I am sorry for grammar or spelling. I just typed what came to my head. Hopefully you gained some insight on Paradigm and Tyranny and the great 6 years we had which is no easy feat in gaming. RIP Tyranny and never forget.
Utopi
14
on: Jan 19, 2012, 09:04 AM
Started by Utopi - Last post by Utopi
To Tyranny members, Tyranny Alumni and supporters.
To my deepest regret, after talking with the current leadership, we have decided to close Tyranny's doors after 6 strong years. As one of the longest lasting WW hardcore guilds Tyranny had always adhered to the old school values and traditional raiding experience of EverQuest 2 end game raiding. Unfortunately, in the current state of EQ2, Tyranny's unique raid style and one of a kind dedication was a dying breed.
I would like to thank all the individuals who have put their time, experience and most importantly their life into Tyranny. Without you and your continued support and commitment, in and out of game, Tyranny would not have been the guild it was. Tyranny will always be remembered, not only on Oasis but at world wide level, for our competitiveness, accomplishments and continued success over the years.
For those of you that called Tyranny your home there was no better place in all of EQ2. Tyranny truly was a one of a kind guild that was loved by those who knew us and hated by those who thought they did. I hope Tyranny had a positive effect on your life as it did mine as it was truly was one hell of a ride I will never forget.
I wish you all the best of luck whether you continue to play EQ2 or look for greener pastures. Never forget.
Tyranny's Founder
Utopi
P.S. Feel free to click the "read more" to view a short history of Tyranny.
15
on: Jan 14, 2012, 10:05 PM
Started by Miang - Last post by Miang
If you don't like this video... I hope you die from genital necrosis.


16
on: Jan 13, 2012, 12:17 PM
Started by Baya - Last post by Kaitanz
I lol'd.
18
on: Jan 12, 2012, 01:11 PM
Started by Nukeitdead - Last post by Nukeitdead
Hello all, thought id stop in and say hi. If things go right, i should be back soon.
19
on: Dec 16, 2011, 01:59 AM
Started by Nukeitdead - Last post by Gajje
from what I hear, klaaktuus and mystikus are a hell of alot easier with 2-3 warlocks, then without them.

just sayin...
solitude-cats
solitude-cats